Full Time

Hourly wages, based on experience/abilities (Merit based wage plan)

Start Date: March 18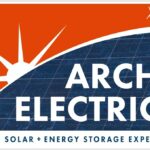 Website Arch Electric, Inc.
The role of the Electrician is to ensure that the Electrical & Solar teams provide consistent, high-quality, cost-effective, and timely deliverables and products to our customers. Working with a solar crew, the electrician's focus will be on the AC side of the install to upgrade electrical service equipment, run pipe, hang the inverter, and ensure all work is up to code. The Electrician oversees, guides, and manages the work of contractors, vendors, suppliers, and employees.
Requirements:
Assemble, install, test, and maintain electrical or electronic wiring, equipment, appliances, apparatus, and fixtures, using hand tools, and power tools.
Diagnose malfunctioning systems, apparatus, and components, using test equipment and hand tools, to locate the cause of a breakdown and correct the problem.
Inspect electrical systems, equipment, and components to identify hazards, defects, and the need for adjustment or repair, and to ensure compliance with codes.
Plan layout and installation of electrical wiring, equipment, and fixtures, based on job specifications and local codes.
Test electrical systems and continuity of circuits in electrical wiring, equipment, and fixtures, using testing devices such as ohmmeters, voltmeters, and oscilloscopes, to ensure compatibility and safety of the system.
Manage all job closeout procedures to include inspections, job write-ups, and returns of unused job materials.
Application Deadline:
November 1