Full Time

Hourly wages, based on experience/abilities (Merit based wage plan)

Start Date: March 18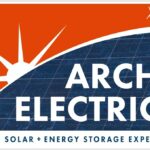 Website Arch Electric, Inc.
The O&M Solar Technician will assist with operation, inspection, and maintenance of site equipment and systems in a safe, reliable, efficient, and environmentally correct manner. The O&M Technician shall be proficient in MSDS safety culture and industry safety regulations. The ideal candidate will completely support the safe and reliable start-up, operation, shutdown, and maintenance of the solar PV facility's equipment and systems. In addition, the O&M Tech will assist in troubleshooting and repairs of mechanical equipment, electrical equipment, and instrumentation. The O&M Technician will perform all duties in full compliance with all applicable laws, regulations, policies, and procedures.
REQUIREMENTS & PRINCIPAL DUTIES
• Become proficient with customer's site and Industry Safety Programs and standards.
• Stop unsafe work, report and correct unsafe conditions or hazards.
• Must be able to react and remedy production related issues as they arise in the field.
• Commission PV Systems, including but not limited to; insulation testing, I‐V curve testing, thermal imagery, torque tests and performance evaluations.
• Troubleshoot PV system performance issues and locate & isolate ground faults.
• Perform OEM testing, troubleshooting, repairs and upgrades/revision to a broad range of equipment in the renewable industry.
• Ability to read plan sets and perform take off for ordering materials.
• Monitor, obtain, and review data from instrumentation located throughout the site, looking for variances that are outside normal operating parameters. Reviews logs and documents and reports discrepancies.
• Perform consumption meter installations.
• Ability to answer customer questions pertaining to system performance after solar has been installed.
• Monitor customer production using multiple tools and websites; SolarEdge, SMS, Sunny Portal, Also Energy, etc.
• Educate and answer questions for new and existing customers on how solar PV systems perform and operate.
• Assist with equipment warranty and vendor RMA processes for customers.
• When necessary, assist with handling incoming service calls along with timely case follow-up in a manner which "wows" the customer with positive energy, proficiency and professionalism which ultimately instills confidence that our customer's service problems will be resolved.
• Troubleshoot and repair ground faults, down strings, down inverters, down internet monitors, and bad panels.
• Perform service work, document equipment including serial numbers, and perform inspections on systems.
• Provide feedback to sales/design/install teams for best practice improvement.
Install and configure monitoring equipment after commissioning and train homeowners on how to use.
• Track, update and close service requests within a customer relationship management (CRM) system.
• Assist and perform routine maintenance of site equipment and respond to variances.
• Assemble, install, test and maintain electrical wiring using hand tools and power tools.
• Operate and maintain company vehicles, mobile equipment and/or tools.
• Willing and available to work scheduled and unscheduled overtime.
Application Deadline:
November 1