Full Time

$15+ based on experience

Start Date: June 1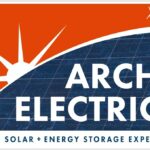 Website Arch Electric, Inc.
We are currently looking to add several full-time, first-shift solar installers to our team. They will work together with our electricians to install solar racking, solar inverters, and solar modules for our utility, commercial and residential customers, all while maintaining a safe working environment.
Ideal candidate should be comfortable working on a roof and have knowledge of fall protection equipment and proper use.  Experience in renewable energy or electrical is a plus. Must have a good driving record and good people skills. The ideal candidate will have the opportunity to earn an electrical apprenticeship if desired. We offer paid holidays, vacation pay,  401K, health, dental, vision and life insurance.  Our service area is Milwaukee County and surrounding areas. Hourly wage is dependent on experience.
Requirements:
HS/GED or equivalent
Have good communication skills and work well with others
Able to lift 60 pounds on a regular basis and up to 120 pounds on occasion with assistance
Able to perform physical tasks as required including: digging trenches, working from ladders, working on steep rooftops
Able to work in various positions including: stooping, standing, bending, sitting, and kneeling for extended periods of time
Maintain a clean and valid driver's license and have reliable transportation
Application Deadline:
July 31