Technical College Programs
solar corps partnering technical colleges
Find a College Program that Meets your Needs
Solar installer is one of the fastest growing jobs in the U.S. And when it comes to jobs in solar, the Midwestern U.S. is in the running for the fastest growing region. As the need for qualified solar professionals grows, MREA's Solar Corps works with colleges to connect students and recent graduates with real-work experience with solar contractors, and provides those contractors the opportunity to connect with qualified employees.
Across the Midwest, 2-year colleges are offering a variety of technical training programs to prepare students for work in the growing solar energy industry. Please explore the various renewable energy training programs offered by the Solar Corps partnering technical colleges to find a program that fits your interests and needs.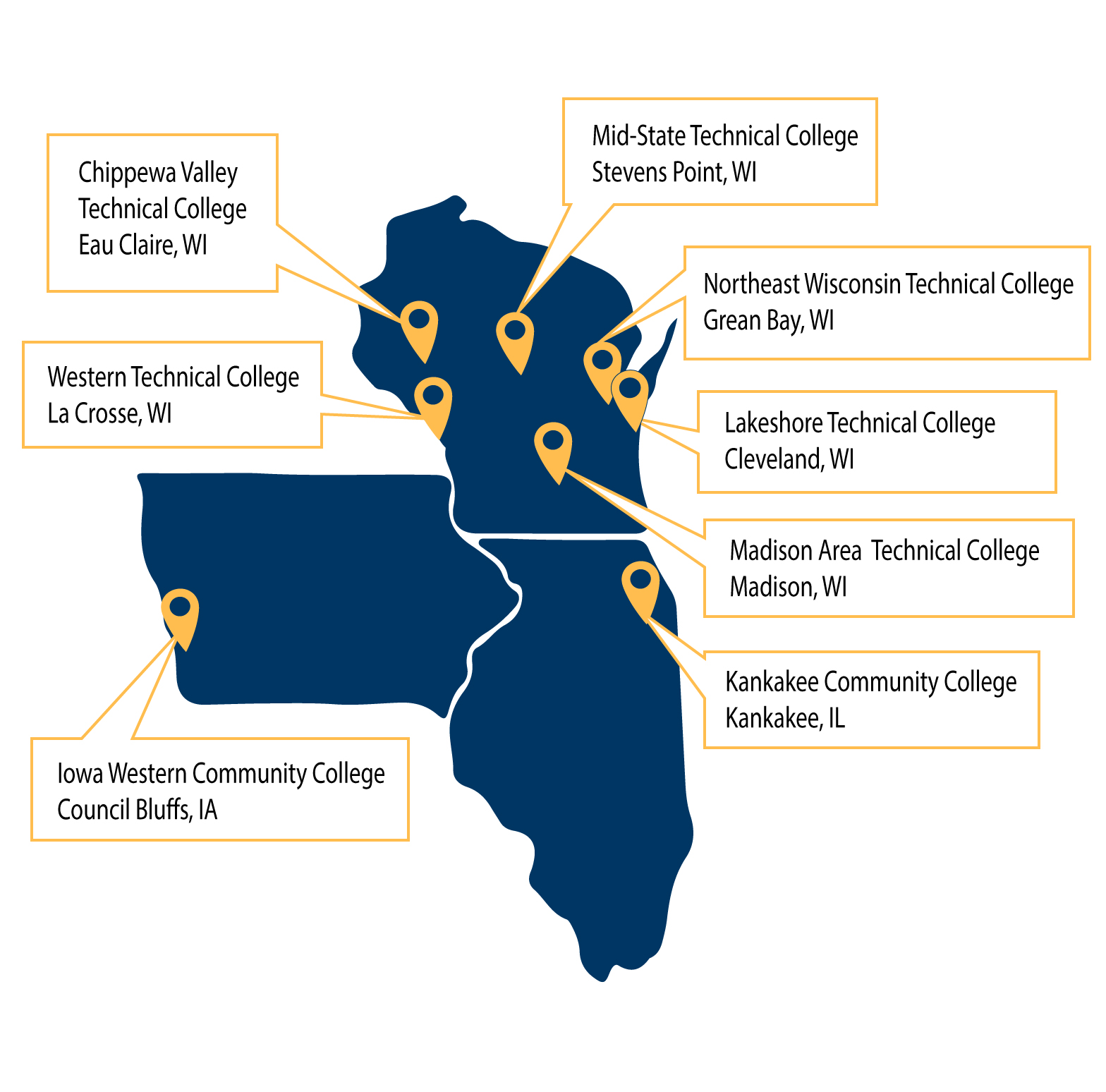 Partnering Technical College Programs
Chippewa Valley Technical College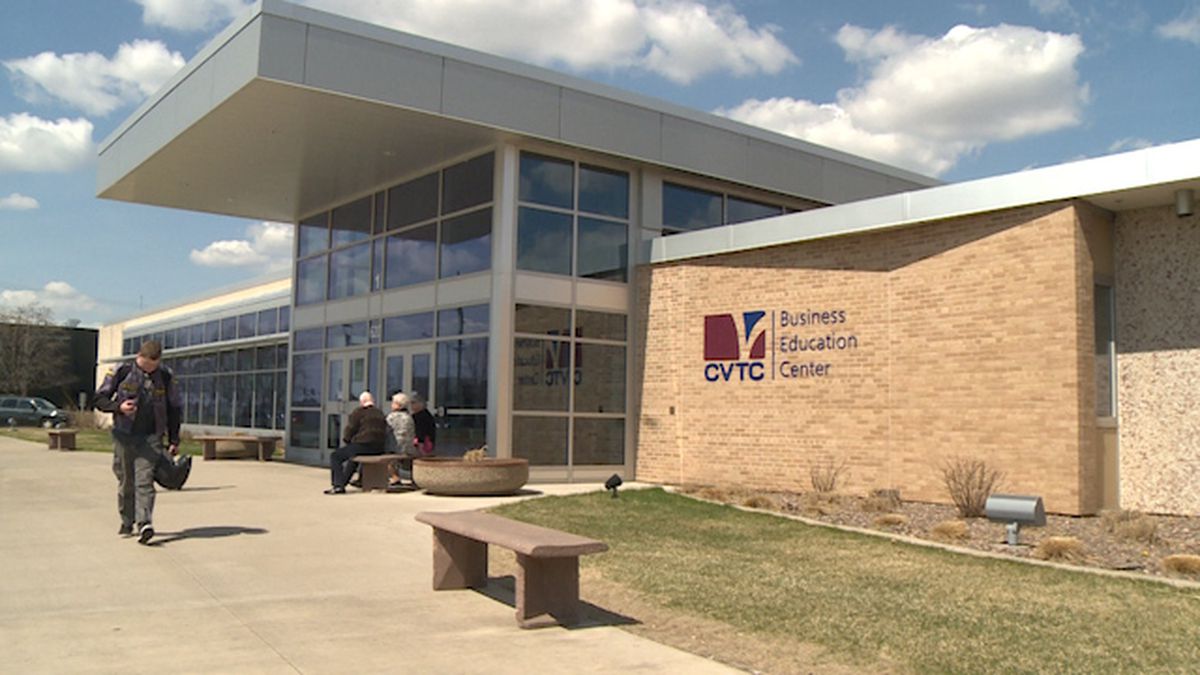 Technical Diploma
Renewable Energy
Chippewa Valley Technical College offers a 1-year, 15-credit Embedded Technical Diploma in Renewable Energy that prepares students with skills necessary for basic geothermal, solar photovoltaic, solar thermal, and wind services.
Part of a career pathway, the Renewable Energy technical diploma credits apply toward the college's Air Conditioning, Heating & Refrigeration Technology associate degree if you choose to continue your education.
Madison Area Technical College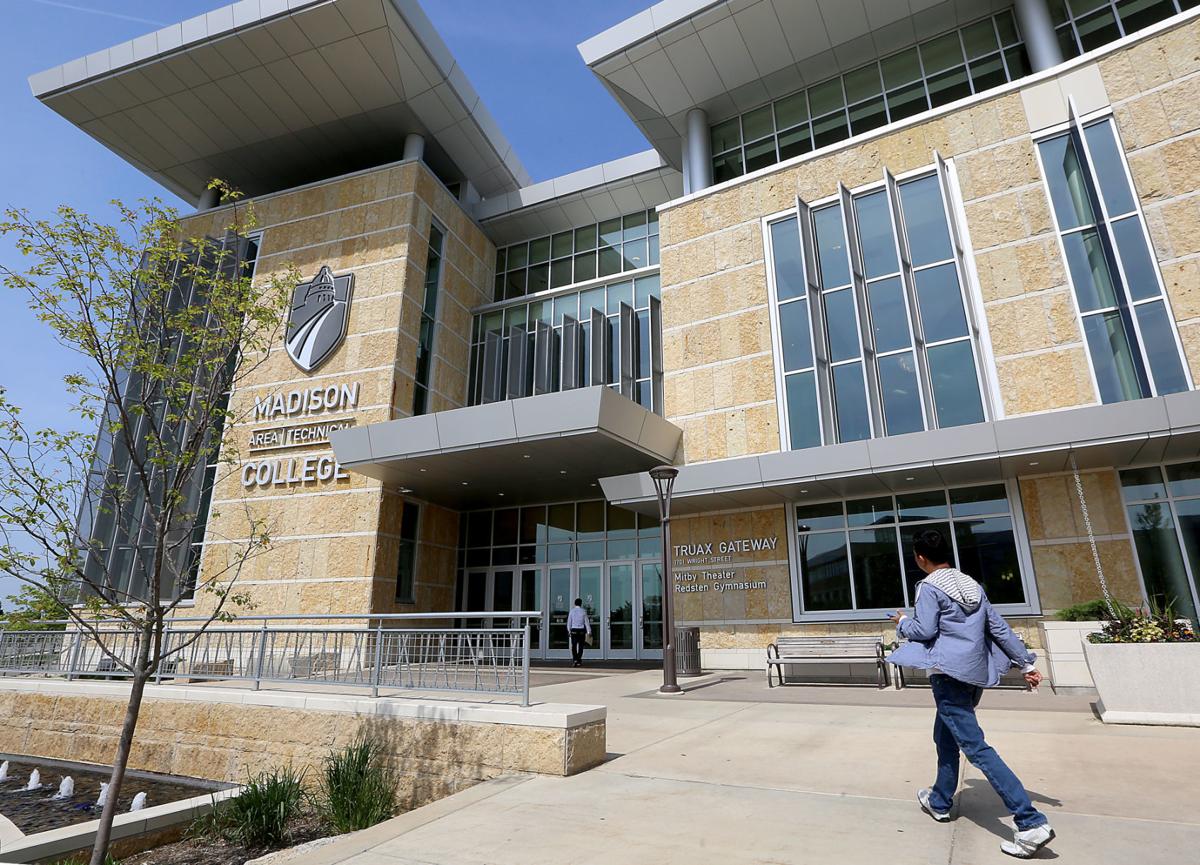 Certificate
Renewable Energy
Madison College offers a 9 credit Renewable Energy Certificate program for students interested in the design, engineering, economic analysis, installation, maintenance and repair of various types of renewable energy systems.
The Renewable Energy certificate program is designed to integrate interdisciplinary technical courses taught by faculty who hold appointments and certifications in a variety of instructional areas, including electrical and mechanical technology, engineering, agriculture, and basic and applied sciences.
As a renewable energy student at Madison College, you'll have the opportunity to explore and learn in classrooms, laboratories and field locations. In the field, you'll examine renewable energy technologies applied to real world situations.
Mid-state technical college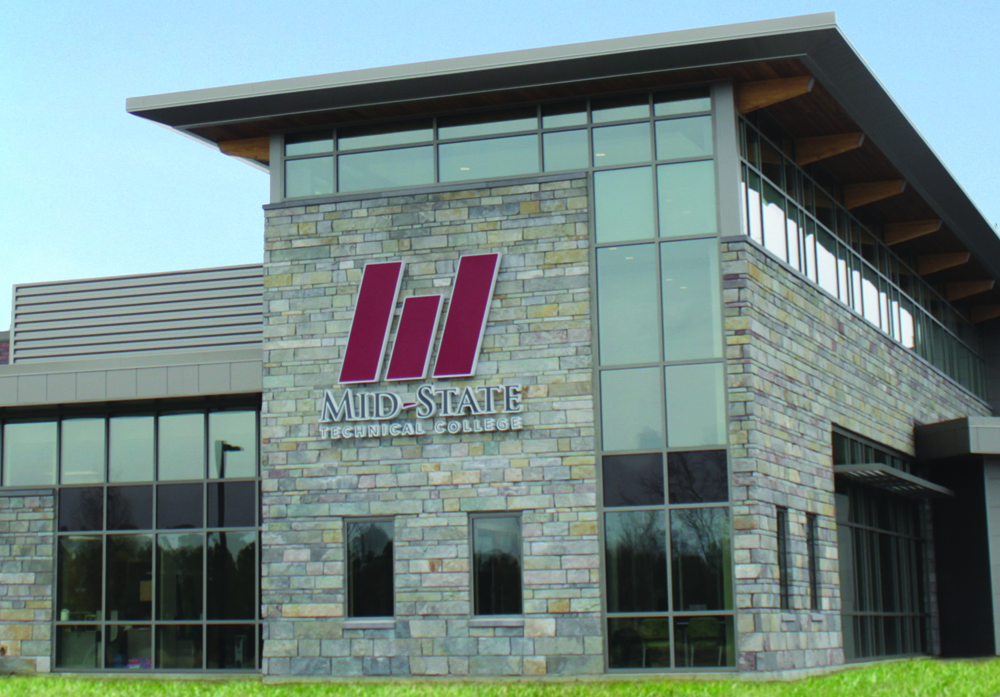 Associate in Applied Science (AAS)
Renewable Energy Technician
Mid-State's 2-year, 60 credit Renewable Energy Technician program prepares students to design an integrated portfolio of renewable and traditional energy-producing systems. Graduates develop a working knowledge of "green" building concepts and energy-efficient design principles as well as the foundation needed for an entry-level position in the HVAC fields.
In this program you'll learn to perform site assessments and recommend appropriate renewable energy technologies, sell and market renewable energy technologies, and manage renewable energy installation projects. 
northeast wisconsin technical college
Associate Degree
Solar Energy Technology
This 67 credit Solar Energy Technology program provides installers, designers, and technical sales personnel the skills to assess sites; design systems; an install, operate, and maintain solar electric and solar thermal systems for residential and commercial applications in the growing renewable energy industry. Potential employment possibilities will be with existing solar, electrical and mechanical contractors to help expand their offerings of solar energy technologies. Other possible areas of employment are with energy consulting firms, design firms and utilities. With additional education and experience, graduates can expand their careers to energy analyst, journeyperson electrician/plumber, project manager, energy engineer, and environmental consultant.
Associate Degree
Energy Management Technology
Energy expenses make up a portion of every business' bottom line. Employers are seeking individuals skilled in monitoring energy consumption with the ability to detect and evaluate energy efficiency opportunities. Graduates of the 63 credit Energy Management Technology associate degree program are equipped to lead these type of businesses' energy management initiatives. Energy managers work within a variety of business sectors: utility companies; energy equipment companies; government agencies; heating, ventilating, air conditioning and refrigeration contractors, and more. Graduates may also find careers as energy auditors, energy management consultants, or energy program coordinators in various industries. 
lakeshore technical college
Certificate
Wind Tower Climber
Employers are seeking employees skilled at climbing and working at heights safely for their operation and maintenance activities. Tower climbers travel extensively around the world with wind farm and telecommunications construction, maintenance, and decommissioning. This includes installation technicians, torque mechanics, and repair technicians. The Wind Tower Climber certificate is a 12 credit, entry-level credential for work-at-height professionals. Students may choose to continue their education by taking other courses in the Wind Energy Technology program. The Bureau of Labor Statistics predicts a 96 percent increase in wind energy careers through 2026.
Associate Degree
Wind Energy Technology
This 62 credit Wind program prepares students for a career in the wind energy industry, the fastest growing segment of renewable energy production. The U.S. and Canadian wind industry is experiencing annual growth of 25%. Employers seek skilled technicians for operation and maintenance activities in wind farms. There's demand for technicians with U.S. and international wind turbine manufacturers; including installation technicians, warranty and commissioning technicians, and quality control technicians. Operation and maintenance positions generally remain with a given location; other technicians travel extensively with the construction of new wind farms and repair/retrofitting of wind turbines around the world.
western technical college
Certificate
Solar Installation Technician
Solar energy is a growing industry in western Wisconsin. The Solar Installation Technician certificate is designed to address the needs of regional utility power suppliers that offer renewable energy options, as well as private companies that provide solar solutions for residential, commercial, non-profit, and government sectors. Western has several solar PV systems that not only provide power to buildings, but offer the perfect, real-life training opportunity. This certificate is a pathway into the Building Science and Energy Management associate's degree, which can lead to career advancement opportunities.
Associate Degree
Building Science and Energy Management
In the United States, buildings represent one of our biggest energy consumers. As a result, buildings have been targeted for energy reduction strategies to reduce cost and dependence on carbon based fuels. This degree examines the built environment and how it relates to energy using the latest research, tools, and technology available. You will gain hands-on experience working with community projects and in living laboratories in Western's state-of-the-art facilities. Study topics include energy auditing, energy management, renewable energy systems, and integrated design.

iowa western community college
Certificate
Solar Installation Technician
The Solar Installation Technician program of study will teach students operational skills and a basic understanding of photovoltaic (solar electric), solar thermal (water/air/heating/effects of wind), and passive solar equipment. Graduates of this program are awarded a certificate.
New program pending state and regional accreditation approval
Associate in Applied Science (AAS)
Renewable Energy Technology
The Renewable Energy Technology program of study is designed to provide the skills and knowledge required for entry-level careers in the installation and maintenance of renewable energy systems, with a focus on wind turbines and solar energy systems. Graduates of this program are awarded an Associate of Applied Science (A.A.S.) degree.
New program pending state and regional accreditation approval
kankakee community college
Certificate
Solar-Photovoltaic Technology
KCC offers a Solar-Photovoltaic certificate and specialization track in the Electrical Technology program.
The Introduction to Solar-Photovoltaic Technology course, ELTR 2334, explores the design, installation and use of solar-photovoltaic power systems for consumer and commercial applications. Students will receive hands-on lab experience, sizing, installing and maintaining solar-photovoltaic electrical generating systems.
Certificate
Small-Wind Technology
KCC offers a Small-Wind Technology certificate and specialization track in the Electrical Technology program
The Introduction to Small-Wind Technology course, ELTR 2324, explores the design, installation and use of small-wind electrical generator systems for consumer and commercial applications. Students will be given theory and hands-on lab experience sizing, installing and maintaining small-wind electrical generating systems.
Address: 7558 Deer Rd. Custer, WI 54423
Email: info@midwestrenew.org
Phone: 715-592-6595
The Midwest Renewable Energy Association (MREA) is a non-profit organization with the mission to promote renewable energy, energy efficiency, and sustainable living through education and demonstration.